Government Technology Certification Programs
Fusion Learning Partners is pleased to announce a new partnership that will provide first-class technology leadership certifications for government CIOs, digital service professionals and those seeking to obtain a certification in government technology leadership!
Proudly sponsored by the following organizations!
The Public Technology Institute (PTI), powered by CompTIA, along with Rutgers University Center for Government Services and Fusion Learning Partners, is offering two certification programs available to midwest government IT  professionals – Certified Government CIO (CGCIO) program and Certified Government Digital Services (CGDSP) program.
These nationally recognized programs equip government technology professionals with the requisite tools to improve and demonstrate skills. Both certification programs are designed around real-work experiences and the students are treated as cohort groups of individuals who are eager to share their insight with each other via the virtual class discussions.
Your Experience Makes these Programs Stronger!
One of the unique aspects of these programs is that the instructors treat the class as a cohort group of individuals who are willing and eager to share their experiences and insight with each other. The program instructors encourage and the students value the conversation and dialogue that takes place during the full-day and monthly classes.
What is the CGCIO Program?
A 12-month course that lays the foundation for assessing and addressing some of the most critical issues facing IT leadership in the public sector. This virtual program is designed for technology executives and those who aspire to be a technology leader or to seek validation in tech leadership in government. Because career paths can rapidly change, PTI has expanded the CGCIO™ program to allow graduates to be designated as either a  Certified Government CIO (CGCIO); or  Certified in Government Technology Leadership (CGTL).
Enhance Your Leadership  |  Increase Your Credibility  |  Validate Your Skills
Interview with Jason Huber, CGCIO:
Hurry, space is limited!
No payment is required during pre-registration. Pre-registration does not guarantee acceptance into the program. After submitting your pre-registration it will be reviewed and we will notify you of your acceptance status within five business days.
CGCIO Midwest Cohort 2022 Class Dates*
(*as of 09/14/2021)
(All Classes are held 3:00 PM to 5:00 PM Central Time Via Zoom unless otherwise stated)
January 19: (All Day Class) Course Intro and CIO Leadership Overview and Leadership Exercises
February 16:  The Future CIO Leader – Where Do You "Fit"?
March 23: Organizational Assessment & Effectiveness
April 13: Time Management (this class Meets on a Tuesday)
May 18:  Human Resources and IT
June 15: (All Day Class) Leadership Styles & Profiles, Communications and Digital Ethics
July 13: Network Security and Emergency Planning
August 10: Emotional Intelligence
September 14: Budgeting & Financing
October 12: Managing Change
November 9: Strategic Planning/Smart Cities/ERP
December 7: (All Day Class) Capstone presentations and Virtual Graduation
Cost:
Member (PTI, CompTIA, GMIS, MISAC, CGAIT):  $3,400
Non-Member:  $3,900
Tuition is non-refundable
Please note that there must be a minimum of 15 students enrolled for the program to take place.
 Eligibility Requirements
In order to participate in the program, PTI requires the following six* requisites for the CIO Certification Program:
Minimum 7 Years of private or public managerial experience in the technology field, at least three years of technology management.
Minimum 4-year degree from an accredited institution of higher learning.*
Agree by signature to a self-enforced code of ethics.
Completion of application stating why the applicant wants to enroll in this program, what he or she brings to the class, and the students' expectations.
Ability to pay upon acceptance a tuition/registration. Sorry, no partial or payments allowed, credit cards and checks accepted.
*Perspective students may petition the program director for waiver of any of the above requirements. Petitions may include a rationale for the request of waiver.
Are you ready to pre-register?
For additional questions or concerns please contact Dale Bowen, Senior Manager, at dbowen@comptia.org. 
CGCIO Program Testimonials 
 This is one of the most memorable courses I've ever taken. Dr. Shark's class curriculum is timely and innovative. His teaching style is refreshing and the class content has been extremely valuable in elevating my the quality of my work.
The CGCIO year-long program engineered and facilitated by Dr. Alan Shark is a truly valuable experience.  The topics covered throughout the year are sure to fill any holes you might have in your background as you prepare to become or enhance your skill sets as a CIO.  The camaraderie you gain from you fellow classmates located throughout the USA will last you a lifetime and provide you unique perspectives on how to address pressing issues.  I can't recommend this program enough to those seeking to improve themselves and their management performance."
The CGCIO program provided a profound learning opportunity which positively impacted my personal and professional development. The influential environment created by the PTI team, and dedicated program participants allowed for a practical learning experience filled with excellent content, and structure.
Is the CGCIO program only for local government CIOs?
No, the program tends to attract students from three major groups, 1/3 from current CIOs who wish to perfect or test their skill sets, 1/3 from senior tech managers who aspire to moving into more senior positions, 1/3 who want to demonstrate competencies for government tech leadership. We also attract students from K-12 school districts and state government agency employees too.
Is the program now open to the vendor community?
Yes, we now offer up to 5 seats per class for those among the vendor community who are not in direct sales positions.
Does having a CGCIO really help my career?
Our students say yes! Some new position postings are starting to state "CGCIO Preferred". But ultimately graduates have said that they feel they are able to develop better skillsets where it counts which has led to improved performance and leadership.
What is the difference between a certificate program vs. certification program?
Certificates like a college diploma is a one-time credential. A certification is designed for professionals where skill testing and recertification is a requirement. Just like CPAs, doctors, airline pilots, lawyers, each of these professions require an adherence to a code of ethics and conduct as well as proof of continuing education within a specified time frame. All CGCIO graduates are required to be recertified every three years.  
Does the program recognize the busy schedule we all fall under?
Yes, the program offers a wide degree of flexibility and is always mindful of time on task in homework assignments and scheduling classes. Most of the work and sessions are well spread out.
What if my employer does not reimburse me for this program?
This of course is up to you, but nearly one half of our students pay for the program out-of-pocket. They do so as an investment towards career enrichment and advancement. It comes down to the value question – how much is your career worth? Most graduate have said that the cost is a true bargain compared with other programs.
Can I earn CEUs (continuing education credits)?
The general answer is no. Even though we partner with Rutgers University Center for Government Services, certification courses do not automatically allow for CEUs. In some instances, however, PTI has certified some hours of instruction based on a particular state's laws and regulations.
Are there any travel commitments I need to plan for?
Right now, given the COVID-19 pandemic, the program has moved to a 100% virtual environment for the coming year.
It appears I do not meet all the program prerequisites; can I still apply?
By all means yes! The CGCIO program staff review all applications and are known to be very understanding in recognizing special situations and thus a rationale for a waiver. Typically, waivers are provided when an applicant does not have a college degree but has many years of experience instead. We value experience more than a college degree. We also have granted waivers when an applicant makes the case why thy might not have held a leadership position as required.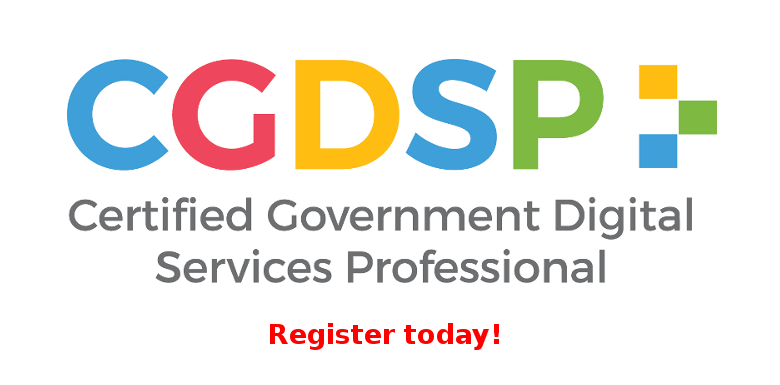 The Certified Government Digital Services (CGDSP) program is a 9-month program geared toward promoting leadership in the delivery of digital and web services, which includes app management social media, crisis communications and much more. This program, also delivered virtually, meets the need for practical and leadership-oriented professional development for web and digital services managers.
Recognizing how busy you are and the time constraints you face, this program is designed to be 9 months in length; a mix of virtual class discussions and self-paced online coursework; and delivery of a Capstone paper – 10 to 15 pages in length – describing a program or practice that you have implemented, or an organization or web/digital services issue that you have had to resolve.
Check out the following resources to learn more about the program! 
CGDSP FLP Cohort Class
New Dates Coming Soon
Class Intro and Digital Service Delivery Overview and Basics
Web and App Management
Multi-Channel Systems and Digital Service Delivery
Metrics & Big Data Reporting Systems Techniques
Management, Leadership, Governance – Policies & Procedures
Compliance
Security & Crisis Management
Capstone presentations and Virtual Graduation
Cost:
NAGW and PTI Member Officials: $2,600
Non-members: $3,100
Tuition is to be paid in full prior to the start of the program.

Please note that there must be a minimum of 12 students enrolled for this program to take place.
 Eligibility Requirements
An applicant applying to the CGDSP Program should possess the following:
Be employed in the public sector for at least three years.
Have a track record of administrative or managerial experience in basic web design and communications management.
Have exposure to social media and app applications.
Have at least a 2-year college degree or equivalent.
The above requirements are necessary to help ensure a robust and meaningful class. Applicants can still apply if they do not meet or exceed the above requirements by requesting a waiver.
Course Format & Topics
The Certification program is divided into 10 modules and all course-work will be graded on a pass/fail basis. These modules will be covered beginning in the first class. After that, modules will be covered with light reading/homework assignments, followed by a combination of recorded presentations and 90-minute virtual/online discussions to be held every 3 weeks.
Following are the topics to be covered during these virtual discussions:
Module 1: Citizen participation (pictures, video, recorded meetings, live meeting participation, polling, etc.)
Module 2: Web management
Module 3: App Management
Module 4: Multi-channel systems
Module 5: Digital service delivery
Module 6: Metrics and big data
Module 7: Reporting systems, techniques
Module 8: Management, leadership, and governance, policies and procedures
Module 9: Compliance and Contract management (CJIS, PCI, HIPAA, FOIA, e-Discovery, Accessibility, Records Act, etc.)
Module 10: Security and Crisis Management
In light of all of these challenges, there is a growing demand for practical and leadership-oriented professional development certification aimed at recognizing the web professional in this fast-evolving field who is delivering digital services through new methods and platforms. Having a certification program designed specifically to fit the needs of today's busy web and digital services professional is highly desirable to demonstrate your competencies and skills required in today's competitive environment. Your certification will reap the following benefits! 
Being certified by well-regarded institutions demonstrates a commitment on your part to implement the latest leadership skills and practices

Being certified helps you justify travel to conferences, meetings, and other training opportunities

Being certified demonstrates that you are current and "in-the-know" when it comes to digital service delivery

Students graduating from the program are encouraged to display the Certified Government Digital Services Professional— CGDSP—designation after your work title.
We, at Fusion Learning Partners, want to thank the Public Technology Institute, CompTIA and Rutgers Center for Government Services for allowing us to be your premiere Midwest cohort partner!